release date 28 feb  2020
label – Disco-ordination
cat number DOCD036/ DOLP036
Distribution – Shellshock
Two days in the recording and nearly two years in the finishing we're proud to present The Fantasy Orchestra's first album.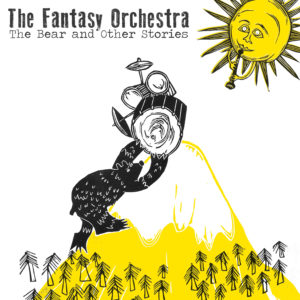 This record documents the huge community of talent, love, dedication and positive energy brought about by members of the orchestra and about 160 of them, mostly amateur musicians and singers are on the record!
The tracklist represents  a Fantasy mix of well-known and lesser-known composers such as Bristol-based master guitarists Paul Bradley and Jamie Harrison: who's song, The Bear, gives the album it's title. There are tunes composed in the 50's, 60's and 70s (Sun Ra, Hendrix, Caetano Veloso); and tunes written since 2010 (Richard Dawson, Disasterpeace).
The track list represents
a Fantasy mix of well-known and lesser-known composers
such as Bristol-based master guitarists Paul Bradley and Jamie Harrison, whose song,
The Bear, gives the album its title.
preorder the album =  https://disco-ordination.bandcamp.com/album/the-bear-and-other-stories
listen to the whole album here:

Order a CD!
Choose postage…
CD incl.. standard post to UK £11.50 GBP
CD incl.. standard post to Europe £13.95 GBP
CD incl.. standard post to World £16.00 GBP
Choose postage…
LP incl.. standard post to UK £18.30 GBP
LP incl.. standard post to Europe £21.80 GBP
LP incl.. standard post to World £27.00 GBP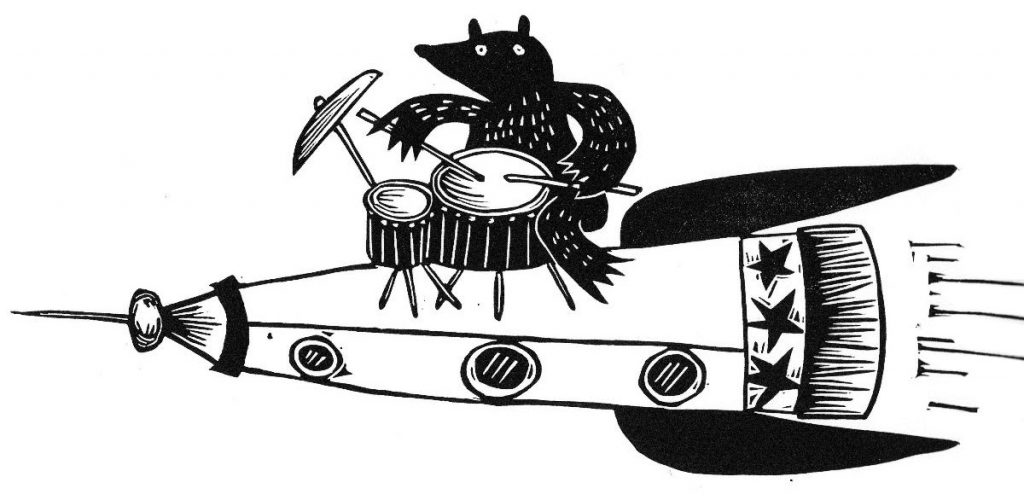 The first session was in Paris on Sat 18th Nov 2017 at Midi Live studio. The next took place on April 15th 2018 at J and J studio in Bristol:
Both sessions feature an almost completely different set of musicians as the orchestra has  branches in Bristol and in Paris
Chef D'orchestre, Jesse D Vernon discusses the tunes
1. Flow – Disasterpeace (P)
I discovered Disasterpeace through the soundtrack he made for the 2014 film "It Follows". On hearing the album "Fez" right away thought the tunes would sound great arranged for the orchestra. Doubly satisfying as the original music seems to have been composed on a laptop, ensuring that our version would be completely different from the original. Apart from that, it's pretty much straight transcription.
2. The Bear – Jamie Harrison (B)
Composer of our title track, Jamie Harrison is part of what a few of us back home like to call the Great Ragtime Renaissance (along with Richard Dawson, Andy Skellam and others). He's a meticulous composer with a Charles Portis-esque gimlet eye for graphic (design) imagery.
3. Split Like A Lip… Buke And Gase (B)
Buke and Gase are the incredible New York duo of Arone Dyer and Aron Sanchez. They play the handmade instruments the band is named after. Again, it was such fun to expand an arrangement played by a duo for orchestra and choir. This tune is a massive challenge for us to play as it changes time signature repeatedly from 3/4 to 12/8. Lead vocals by our wonderful Paris Fantasy secretary, Abby Tsype.
4. Third Stone From The Sun – Jimi Hendrix (P)
This Hendrix instrumental (which He never played live) has become a FO staple. It's a great opener with a fab melody, lots of energy and a bit of an improvised section. The choir sing what Jimi speaks on the original – you can find a fun version of that on the internet, with Jimi and Chas Chandler giggling/ laying down some space conversation.
5. Love In Outer Space – Sun Ra (P)
The original version can be found on 1970's "Night Of The Purple Moon" album .and was performed by a quartet of rocksichord (a special Sun Ra instrument), bass clarinet, bass and drums with a vocal version released years later. We transcribed the melody instruments and added a choir part. It's a special feeling for our amateur orchestra to recreate the flow of such cosmic musicians . I hope the Arkestra get to hear it. Rasha Shaheen (also a Liftman, see below) added lead vocals.
6. One Of My Favourite Weathers – Paul Bradley (B)
Paul B is one of Bristol's finest musicians and guitarists. This song comes from the wholly improvised 2015 album "Banish Cherish" and is sung here by a very special guest (who also plays some lead guitar on the end), though we haven't told Paul yet to keep it as a surprise when the album comes out!
You can catch Paul perform solo or with various bands including The Organelles and Three Cane Whale.
7. The Empty Boat – Caetano Veloso (P)
Our version doesn't differ much from Caetano's mind-blowing 1969 original which features an inspired arrangement by Rogério Duprat. We transcribed that and added choir and everyone else . I share lead vocals with Kate Stables.
8. Kurtle – The Liftmen (B)
This piece was composed by superb guitarist Neil Smith for his group the Liftmen around 2003. Check out the rest of their stuff espcially Backwards. You can catch Neil playing live in one of his many Bristol groups including The Brackish, Hélélé and This Is The Kit
9. October – Sun Ra (P)
Sun Ra always delights with his mixture of chaos and order and this one sounds like a foggy 1950's B-movie soundtrack. We added strings and choir. It was only when transcribing Sun Ra's piano part that we realised the tune uses quite standard jazz changes and an AABA structure – it's the wild harmonies and sub-melodys that bring the magic.
10. One Rainy Wish – Jimi Hendrix (P)
It's a long time ambition of ours to record a whole album of Hendrix covers. We started with these as they're tunes Jimi H never performed live so it seemed only fair that the songs should get to live a little on the live music scene. Lead vocal is by the amazing Frankie Cozzolino from the Paris Fantasy Orchestra whose performances are always a highlight.
11. Final Moments of the Universe – Richard Dawson (P)
Richard D is a guitarist / singer whose performance begs transcription. His songs already sound like symphonies when he plays them solo. We can't expect to capture that subtlety but we do hope to convey the brazen glory of RD's, dare we say, masterpiece. Also, a shout-out to Bristol FO trombonist Sam Hayler for an excellent vocal performance and to harpist Louise Schwartz because she's great.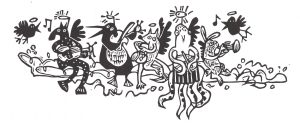 The Fan-ta-sy is Fun-to-see!
The orchestra evolved organically round about 2012 from a run of theme events in Bristol and Paris called The Greatness Of The Magnificence.
These were often tribute nights and when we decided to celebrate Ennio Morricone an orchestra and choir was required. So we formed one Open to all. Soon we branched out into exotic music from the 50s by the likes of Dominic Frontiere and Les Baxter. From there we started on rock and pop orchestral arrangements (which the original acts possibly never played that way live ) "Life On Mars", "Bohemian Rhapsody", "Nights In White Satin" – and a whole lot of Hendrix.
We play fantasy music (film soundtracks, computer game soundtracks, old Disney stuff); it's my fantasy to run an orchestra; it's your fantasy to sing or play with one….
We're a community project we ask the audience to give up and join the band. Most years we organise a cycle tour, pedaling from gig to gig and camping. In 2018 we played the Mumbai Royal Opera House as well as taking part in a Hindustani talent competition. World Peace One Note At A Time!
One year we took part in and won the Bristol Eisteddfod Big Band competition (sadly pipping a band of teenage flautists to the post).
We play hits from round the world and round the genre. We play Bohemian Rhapsody, Moondog, Dance Of The Knights, Mehbooba and Anna Meredith. We get out the glitter, greasepaint, our grooviest garb and make a lot of cacophonous noise …usually fun to see!
REviews!