We celebrate the longest night this winter with a rare opportunity to witness Bristols best loved psychedelic folk act and Bristols biggest community orchestra 

// This Is The Kit will feature members of The Fantasy Orchestra and the Fantasy Orchestra will be presenting Navidad Nuestra, a seasonal work from Argentina by Ariel Ramirez. Other festive and seasonal stuff will be occurring.
FB event: https://www.facebook.com/events/679672512130454/
The
 Fantasy Orch have prepared a special festive and joyous set and 
This
 IsThe 
Kit
 will be in full metal jacket mode bolstered by some of
the
 orchestras most sublime talents.
spectral psychedelic spiritual, shiny-eyed, soul stirring: it will be like 
the
 wicker man but instead of edward woodward burning it will be your hearts on fire
hey, its worth coming just for 
the
 poster alone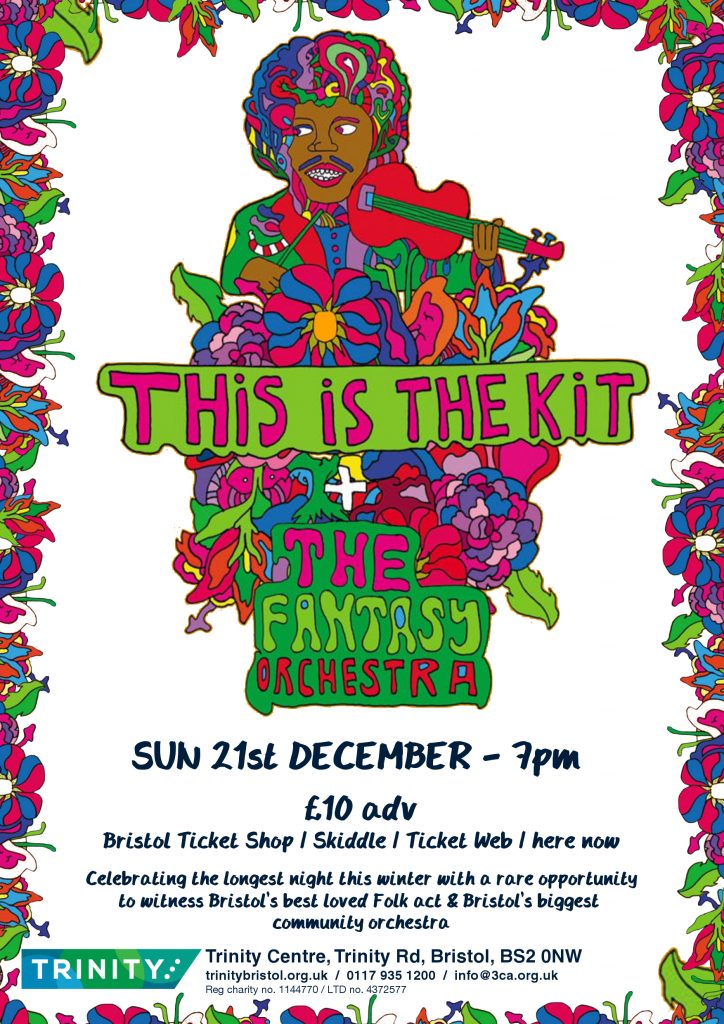 here are a couple of videos
La Annunciacion – http://youtu.be/xvCfetXYTPo
La Huida – http://youtu.be/k4991dhHqsI
Cold and Got Colder (this is the kit) : http://youtu.be/NRFp0jH7s9Y
review by Tony Benjamin:
http://www.bristol247.com/channel/culture/music/reviews/review-fantasy-orchestrathis-is-the-kit
Here was an early Christmas present, a gig of three halves as it turned out, with ostensible headliners This Is The Kit performing their set between two bashes from the Fantasy Orchestra. It was a generous move by TITK's Kate Stables that made for a satisfying and entertaining evening and in no way diminished the impact of her set of crystalline folk-rock. It was a band of familiar faces around her, too, with Rozi Plain on bass, Neil Smith and Jesse 'Morningstar' Vernon on guitars and Jamie Whitby-Coles drumming. Kate was the presiding folk-rock goddess here though, the thoughtful optimism of her personality imprinted in the elliptical poetry of the songs and the judicious clarity of the music. The faux-mystical Bright Showers gained a resonance from the solstice night, Kate's beautiful vocal harmonies with Rozi on Greasy Goose was just one spine-chilling moment and an old-time gospel acappella opening made Earthquake an even bigger crowd-pleaser. As composed as ever, Kate whistled her way out of Two Wooden Spoons and left the crowded Trinity room aglow. She was followed by the second Fantasy Orchestra set – 'Our fun stuff' as Jesse Vernon described it. The stage was crowded to capacity with random glam and poncho chic for Morricone, Hendrix, Bowie and more, all delivered in sumptuous arrangements for choir and orchestra. The texture of the music was formidable thanks to great work at the sound desk and the discipline of the 50-plus musicians, yet the mood was never less than playful and audience participation plentiful. An extraordinary rendition of the Star Trek theme was a particularly happy affair. But the real peak of the evening had happened right back at the beginning: the Fantasy Orchestra's first set being a performance of Navidad Nuestra, a six-song Christmas suite by Argentinian composer Ramirez. This was powerful music, folk-rooted yet classically constructed, a three way mix of orchestra, choir and solo vocalists that swept Jesse's flippancy (and those ponchos) aside with its sheer beauty. Space Oddity might be their singalong calling card but Navidad Nuestra gave the game away: for all the fun-filled antics the Bristol Fantasy Orchestra is actually a seriously brilliant musical experience.