Sun Ra and Moondog
1st December 2021 @ 7:30 pm

-

10:00 pm
What: An evening of music by visionary composers Sun Ra and Moondog
When:  Wednesday December 1st, 19:30
Where: Bristol Beacon
Tickets: (coming soon)
The Fantasy Orchestra perform a selection of music by two cosmic artists: Sun Ra and Moondog.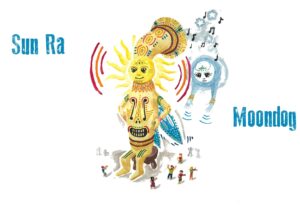 Sun Ra, who claimed to have been born on the planet Saturn led a free jazz big band known for its innovative instrumentation and the theatricality of its performances. His widely eclectic and avant-garde music echoed the entire history of jazz, from ragtime and early New Orleans hot jazz, to swing music, bebop, free jazz and fusion. His compositions ranged from keyboard solos to works for big bands of over 30 musicians, along with electronic excursions, songs, chants, percussion pieces, and anthems.
Moondog was an American musician, composer, theoretician, poet and inventor. He is well known for his Viking costume playing home-made instruments on the streets of New York and respected by the likes of Charlie Parker and Stravisnsky. Largely self-taught as a composer, his work drew inspiration from jazz, Classical, native American music, and was strongly rhythmic and contrapuntal, in some ways anticipating the minimalism of Steve Reich and Philip Glass.
This will be at the newly re-opened (and renamed) Bristol Beacon!
For more information see the the Facebook event.