How's your year gone so far? Go anywhere nice this summer? Right, we've got some catching up to do.
Our 2017 gigs started with 'Love In Outer Space' on 18 February at All Hallows Hall, Easton. We debuted some new arrangements of tunes by Sun Ra, the Velvet Underground and the Andrews Sisters. To prove that it happened, there's a handy montage on YouTube:
Then, among a few smaller gigs, we sent our crack Morricone Squad to the Salt Café on 8 April to play an evening of lovely soundtrack music; and our Wedding Corps was dispatched to Glastonbury on 26 May to gild a knuptial knees-up with psuitable psychedelic psounds. Oh, and we helped someone special propose to another someone special in a flashmob sort of a thing at Café Kino.
If you were at the Folk House on 9 April, you'll know that we played a show there, too, and ditto 27 May in the Bear Pit: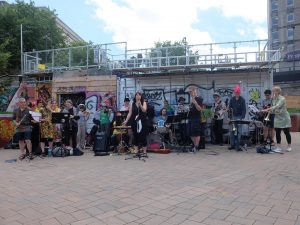 That gets us up to the end of May – and we'd only just got started…